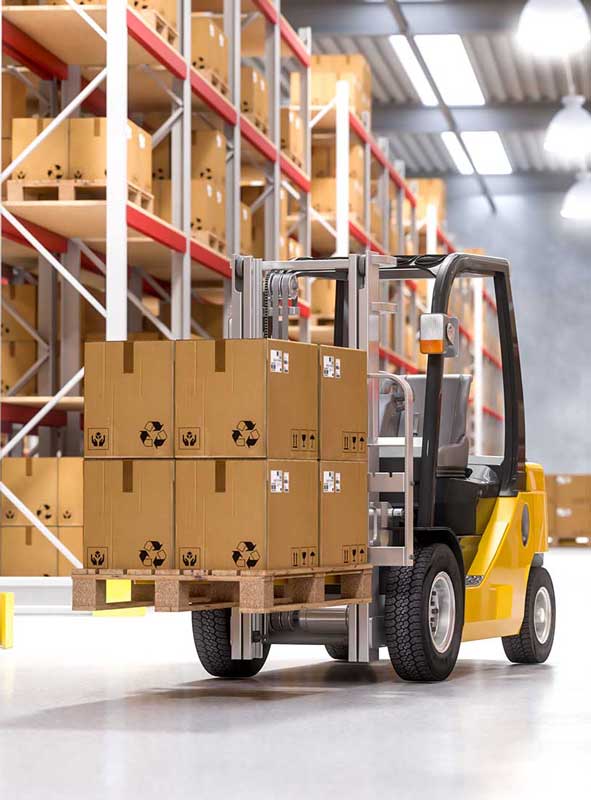 Logistics through Innovation, Quality, and Technology
Most Trusted Cargo Logistics Solutions That Save Your Time!
What Is A Freight Forwarder And Why Do We Need Them?
International trade may seem intimidating as the process, paperwork, and regulations involved varies depending on products and following them precisely is a must. A thorough knowledge of the product, the customs act and regulations and exceptions, knowledge of international trade are some areas that we should be aware of to become an Importer or Exporter. Nonetheless, hiring a Freight Forwarder can do the trick. You can be a successful international shipper without getting caught up in the logistics of logistics. Cargo forwarder functions as a link between the shipper and the consignee. They are responsible for arranging the whole procedure including the storage and the shipment of the merchandise. They also negotiate the cost of the transport and help selecting the most reliable, fastest, and economical route. Employing the services of freight forwarding companies is invaluable to your business. They can help you in shipping the merchandise to your clients. As they are knowledgeable and expert about shipping of goods, they can ensure that the product will be delivered as per schedule and in great condition. . A good Freight Forwarder is responsible for the cargo and ensures information is communicated to the appropriate parties in a timely manner.
Well-established and reliable freight forwarding companies have solid experience about the business and a good network of contacts. They can resolve any concerns about the transport of your cargo efficiently and swiftly. Freight Forwarders will ensure you have peace of mind that your shipment will arrive on time and safely.
What Is A CHA?
Customs House Agent (CHA) is a person licensed to act as an agent for the transaction of any business relating to the entry or departure of conveyances or the import or export of goods at a customs station.
Many importers and exporters do not have the knowledge about the rules and regulations of the government relating to customs. Many do not have the time to look into these matters. Appointing a CHA to work on their behalf is the best solution. These are government approved and licensed agencies that facilitate / complete import/export formalities on behalf of the importer/exporter
Importing / Exporting Goods First Time? What Do You Need To Know?
Importing or Exporting goods for the first time need a lot of preparation and knowledge. Awareness of the product, its bi-products, its uses, shelf life, the best way of storage and packing are some of the aspects to be dwelt upon. Air Way Bill, Bill of Lading, Commercial Invoice, CFR, CIF, Duty, Duty Benefits, Packing List, Penalty, Tariff are some of the basic terms a first-time importer or exporter must be aware of. We should be aware of the Rules and Regulations laid by the Government related to the product. There are a lot of Rules and Regulations involved in Exporting and Importing goods with changes and exceptions made periodically. Hence it is of utmost importance that we are aware of the notifications issued by Customs House and understand them properly. Knowledge of international trade also helps a long way.
What Are EDI And ICES?
Indian Customs is administered by The Central Board of Indirect Taxes and Customs (CBIC).
Electronic Data Interchange (EDI) is the process of sending files/data electronically between computer systems through standard interfaces. Indian Customs uses the EDI system for the smooth handling of international trade operations.
The Indian Customs EDI System (ICES) is designed to exchange/transact customs clearance related information electronically using EDI. Indian Customs Electronic Gateway (ICEGATE) is the national portal of CBIC that provides e-filing services to the Trade, Cargo Carriers, and other Trading Partners electronically.
What Is Customs Duty?
Customs duty is a type of indirect tax that is levied on all the goods that are imported to the country as well as some goods exported from the country. The purpose of Customs Duty is to protect each country's economy, residents, jobs, environment, etc., by controlling the flow of goods, especially restrictive and prohibited goods, into and out of the country.
What Is Warehousing Of Goods?
Storing goods to be sold and distributed later as a part of a logistics management system that includes packing and shipping of the order is termed as warehousing. Warehouse aids in timely delivery and optimized distribution that leads to increased productivity and greater customer satisfaction.
What Are HS Codes And How To Interpret Them?
WCO (World Customs Organization) developed up a multipurpose universal product classification to portray the type of good that is transported. It is a Harmonized System that enables partaking nations to classify the traded merchandise on a common basis for customs purposes. At the international level, the Harmonized System (HS) for classifying products is a six-digit code system.
Indian Trade Classification dependent on Harmonized System of Coding prominently known as the ITC-HS Codes was accepted by India. A code with six digits is a universal standard (HS Code) and a code with 7-10 digits (HTS Code) mostly unique after the sixth digit and determined by individual countries of import. Indian custom uses eight-digit ITC-HS Codes to suit the national trade requirements for import-export activities. ITC-HS codes are divided into two schedules. ITC(HS) Import Schedule I portray the rules and guidelines related to import policies whereas Schedule II depict the rules and regulation related to export policies. Schedule II of the ITC-HS code contains 97 sections giving all the insights about the guidelines related to the export policies. The DGFT (Directorate General of Foreign Trade) is the Governing Body of the ITC (HS) Code. Any changes or formulation or addition of new codes in ITC-HS Codes are carried out by them.
The initial two digits of the HS Code designate the HS Chapter. The second two digits assign the HS heading. The third two digits assign the HS subheading. The last 2 digits in Indian coding system is called the "Tariff Item". Incorrect classification of goods may lead to a finding of non-compliance which may result in penalties and delays in cargo clearance.
HS codes are significant in light of the fact that they do not just decide the tariff/duty rate of the traded product, they also track the global trade statistics that are utilized in most countries.
Why Knowledge Of Packaging And Documentation Necessary For Export?
Before exporting goods it is necessary to learn about the guidelines established for the packaging of your products and the documents required to Export them. Since products are moved for long distances and the process takes time with different storage and handling conditions, proper packaging of the cargo is of utmost importance. With proper packaging and labeling an exporter can make the final product look attractive and also ensure that the product reaches the destination without much damage during the export process.
Proper documentation plays a very important role in the export business. An exporter has to follow the regulation of both the exporting country as well as that of the importing country strictly. Every country has a government regulatory authority to control the import and export of the said country's trade. In India, all import-export trade activities are performed as per the guidelines of the Foreign Exchange Management Act. Since goods are moved out of the physical boundary of one country to another there should be supporting documents for all the correspondence made at each level of transactions as proof. Also, an exporter can easily claim any government assistance if they have proper documentation on their exports.
What Are The Types Of Containers Used In Shipping?
Around 90% of the world's cargo is moved by ships. To accommodate such a varied type and amount of goods, different types of containers are used. Some of them are:
Dry Storage Container
They are the most commonly used shipping containers. These shipping containers are fully enclosed and are used for shipping of dry materials and come in sizes of 20ft, 40 ft, and 10ft.
Flat Rack Container
These containers have collapsible sides so as to make a flat rack for shipping of a wide variety of goods. The end walls are stable enough to allow cargo securing, so they are ideal for shipping oversized goods.
Open Top Container
This shipping container has a convertible top that can be entirely removed. Cargo that cannot be loaded in normal containers due to height can be accommodated in these containers.
Tunnel Container
Tunnel Container contains doors on both ends that help in quick loading and unloading of cargo. They are also known as double door containers and are extremely helpful for loading and unloading goods very quickly.
High Cube Container
High cube shipping containers are taller than general-purpose containers by 1 foot for slightly bigger volume capacity. These containers are available in sizes 40′ and occasionally 45′.
Refrigerated ISO Containers
These containers are exclusively used for the shipment of perishable substances and maintain a controlled low temperature.
Insulated or Thermal Containers
These containers are used to transport foods, pharmaceuticals, organs, blood, biological materials, and chemicals and maintain a higher temperature.
Half Height Containers
These containers are mostly made of steel and are half the height of full-sized containers. They are used to transport bulk cargo that is heavy and dense like coal, stones, etc.
How to do KYC?
Know Your Customer, commonly known as KYC, enables us to validate the identity of our customers. You only need to do this once as a first-time customer on our platform.
To complete your KYC process, you must:
Enter your PAN number and upload supporting document proof.
Select the address proof and upload scanned copies of the same.
Please Note: The uploaded address proof must be the same as that of the billing address submitted with Eshnam Cargo Logistics Pvt Ltd.
You grow your business while we move your freight